How Custom Jewelry Is Made
April 27,2023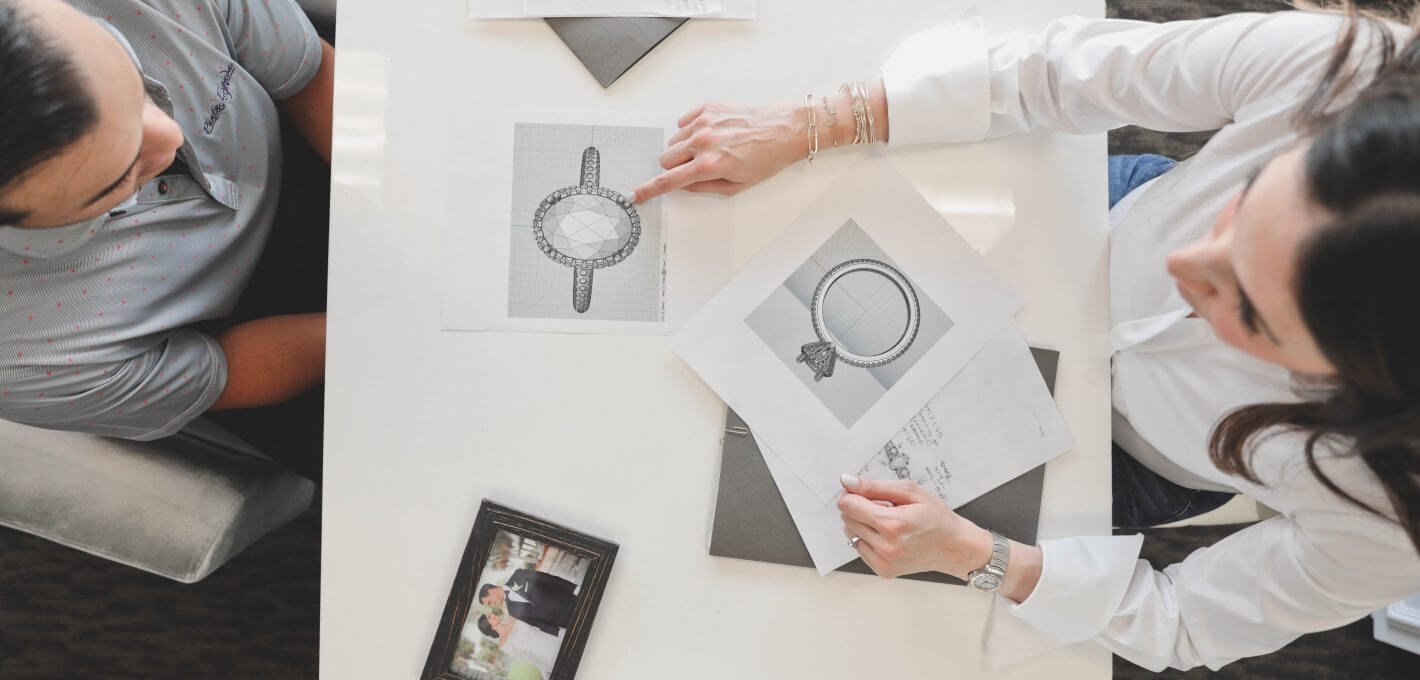 Let's suppose you have scanned and checked out every jewelry store in-person and online, only to find nothing to your liking. It is often quite hard or nearly impossible to find the perfect jewelry pieces, be it for your Engagement Ceremony, your prom night, or a master's graduation. Well, we have three simple words for you: Custom-Made Jewelry Designs.
Whether you wish to renew an old and tarnished jewelry piece or want to design the engagement set of your dreams, custom jewelry is the answer to all your problems. The idea of custom jewelry might raise a few strange thoughts because of the many confusions and expenses associated with it. Nevertheless, custom jewelry pieces are not as expensive as you think.
Custom jewelry designing can be fun, easy, and rewarding, as you get to enjoy one-of-a-kind jewelry pieces that make you stand out. Though custom jewelry designing can be a bit daunting, we intend to clear all your misunderstandings. To remove your confusion, we have put up an informative guide on how custom jewelry is made at Jacqueline Pinto.
Custom Made Jewelry Is High on Trend
In these few years, there has been a sharp rise in the market of customized jewelry pieces. Buyers are mainly on the lookout for personalized and tailored ways to beautify and adorn themselves via clothes, shoes, and of course, jewelry items.
Still, what is genuinely steering the trend towards custom-designed jewelry? Here are some reasons why plenty of jewelers have gradually shifted to customization to keep up with the latest trends.
'Custom' In Customer: Unsurprisingly, the retail world is evolving at a rapid pace, from mass market to customization. The internet has made it possible for consumers to create and customize their shopping experience around the clock. They can choose their personal preferences, put filters, and scan through the entire stock range.
More Attention on "ME!": Before the clothes were produced on a mass scale, individuals used to hire dressmakers who would tailor-make the clothes to fit true to their size and nobody else's. Several decades later, people browsed racks after racks in the department stores to find their ideal outfits.
In terms of clothes, mass production means you might never need to turn back to your tailor. However, jewelry is the perfect means for customization. Custom-made jewelry can be made from your own exclusive choice of precious gemstones and metals, extravagant diamonds, and crystals, with experienced designers and skilled manual laborers.
As a result, people are more willing to invest in personalized and one-of-a-kind jewelry pieces that accurately reflect their life stories, character, and taste preferences. Hence, most retailers have found this way to be a more effective way of securing customers' wallets and hearts.
Taking the Idea of Uniqueness Up A Notch: Custom jewelry focuses on producing something that hasn't been made earlier. This makes jewelry designers worldwide look for additional ideas and inspiration to take jewelry making up a notch. Nowadays, customers have the perfect opportunity to leave their mark on the world and create statement pieces of jewelry that are entirely distinctive.
A Step-by-Step Custom Jewelry Designing Process: When it comes to the custom jewelry designing and making process, you will naturally be involved in various steps of the process to add in your opinions, suggestions, and critiques to create your own exceptional jewelry items. Take a look at Jacqueline Pinto, a Miami-based fine jewelry brand, who believes in providing you premium quality jewelry.
With the help of our finest jewelry workers who turn your most imaginative creations into reality, you can rest assured that each and every piece we design for you will be treasured for many generations to come. Here is what it takes to get the jewelry of your dreams.
Tip: You should look for Custom Jewelry before looking around and narrowing your creativity for your unique piece.  Mass manufacturing should be left behind.
Consultation
The custom jewelry designing and crafting process begins with a consultation session with one of the best Jacqueline Pinto designers. While consulting with our jewelry designer, you will need to talk over your ideas and present them with the image you have in mind.
When people usually feel nervous and stressed, we ensure trust and security throughout your purchase process. Discuss your feelings regarding the exquisiteness and level of personalization you wish to be incorporated into your exclusive piece of jewelry.
Let us make this custom jewelry designing an experience of a lifetime. From revamping your family's most treasured heirloom jewelry to creating something completely new and contemporary, we will help you through it all.
Sketch
The consultation session follows with some basic sketches of the jewelry item. To create an accurate illustration of your dream jewelry, our designers would like to know more about you. A custom jewelry item is entirely about you, so it should speak to everything about you.
Our designer will also talk about the comfort, wearability, and price of the custom piece, based on the quality of stone and precious metals you want to include. Whichever jewelry piece you want, they will discuss it with you and even provide some samples or ideas for the design.
Computer-Aided Design (CAD)
With CAD software's help, our highly talented custom designers at Jacqueline Pinto will generate models and prototypes of your unique jewelry design ideas. The CAD program enables the creative process to meet the technical understanding, which is essential for designing jewelry.
These CAD designers need to envision your jewelry design and breathe life into it via design software. It can be incredibly intriguing to watch them add intricate details and design elements to the screen model.
So, let's suppose you want a custom-designed engagement ring. In the very first stage, we will allow you to view the shank, followed by a box for the center stone placed atop the shank. In the next step, you might witness our experts adding the stones in the shank. This way, you can notice each step in detail until all the jewelry elements have been transferred.
Custom Jewelry Adaptation with CAD
Once you approve the sketch, the jewelry adaptation services with computer-aided design come into motion. A picture-realistic image will be rendered to your ideal expectations before moving onto the next step. It is this automated model that will then be created out of wax in the further stages.
Our jewelry designer can assist you in selecting the perfect center stone for your piece. You'll have the chance to explore Jacqueline Pinto's finest hand-selected gems and crystals to beautifully enhance your jewelry. On the contrary, if you plan to fully enjoy the jewelry customization process, you can shop for diamonds and other stones on your own.
Selecting Stones for Your Custom-Designed Jewelry
The gemstones and crystals play a significant role in your custom jewelry designs. Hence, choosing and matching stones are two of the most vital steps in the entire process. We do our best to educate you regarding the quality of valuable diamonds and gemstones to perfectly fit your design.
You can also select colored stones or diamonds from the previous jewelry pieces you plan to repurpose. If there are insufficient stones in the piece you want to repurpose, we will precisely match the additional stones to your new piece. This is what customized jewelry is about.
Customized jewelry gives you the ultimate freedom, flexibility, and creativity to design your dream piece. We believe that even though stone searching and shopping can be time-consuming, it is one of the most fun parts of buying custom-designed jewelry.
Wax Model
Based on the jewelry design, our model creators will either make sketch models by hand-carving wax blocks or using automated methods like CAD to create a model. A 3D wax model of the custom jewelry design is like a prototype of your jewelry. It gives you a practical preview of how your dream jewelry will appear once it is finally completed.
This step ensures that custom jewelry computer-aided design solidifies perfectly in an accurate 3D model. Moreover, it can be fascinating to experience and see a 3D version of your jewelry design.
Casting & Finishing                  
The last and final step of the custom jewelry designing process is casting and finishing. The wax will be cast by our designing experts in your metal choice, so it can be silver, platinum, or gold. This metal will be shined, polished, textured, and smoothed out before we add the final details to your custom jewelry design. A professional gemstone setter will carefully set each crystal or stone with utmost precision, care, and quality. After finally inspecting the quality and accuracy, you will be presented a unique, impressive, and premium quality custom-designed jewelry that meets or surpasses your expectations. Now, this custom-designed exquisite piece of jewelry can be enjoyed by many upcoming generations.